29/11/2016
Inbound marketing has grown to become an immensely popular form of online marketing in the past decade. In fact, according to socialmedia.biz, traditional outbound marketing has taken a back seat as many local businesses are utilising their capital and energy on inbound marketing.
In an outbound approach, a marketer will push the message to the target market. On the other hand, inbound marketing involves using a pull approach whereby the marketer presents a message to customers who are already searching for a product or service the business is already offering. Traditional outbound marketing strategies involved buying advertisements, cold calling and acquiring email lists.
Traditional outbound marketing strategies involve buying advertisements, cold calling and obtaining email lists.
The diagram below outlines key strategies in both inbound marketing and outbound marketing.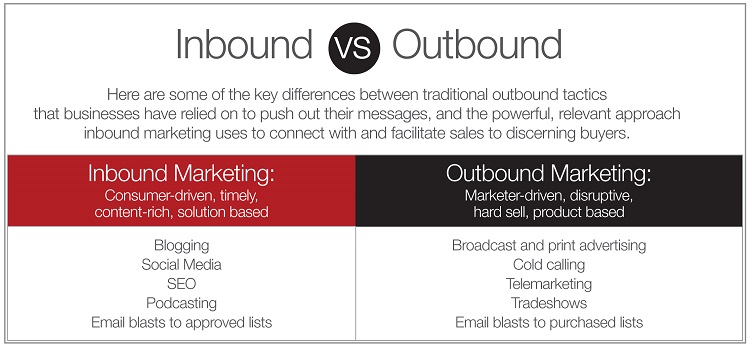 What Is Inbound Marketing?
Inbound marketing is the approach of creating content that is exclusively designed to appeal to your business's potential customers.
The content is used to pull potential customers towards your product or services; somewhere they naturally want to be. By aligning your website's content with your customers' interests, you can therefore naturally attract high amounts of targeted customers.
Marketing content should be published in the right place and at the right time to avoid being interruptive. People love stumbling onto content that is not interruptive or manipulative, however instead, moves towards enriching their lives in some sort of surprising, exciting or intriguing way.
Primary marketing principles of Inbound Marketing
There are four major marketing principles business owners should consider when it comes to inbound marketing. The four principles are to attract, convert, close and delight.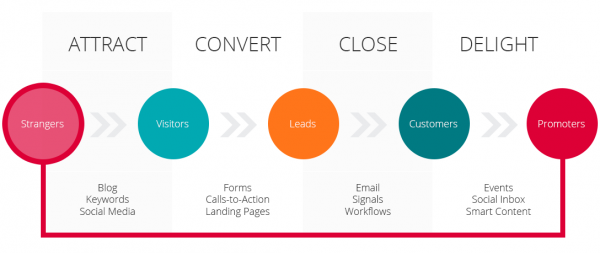 Attract
You don't just want to send any form of traffic to your website. What you want is highly targeted traffic, with the purpose to convert into purchasing customers.
It is important to understand the characteristics of your target audience. Things such as the customers' personal challenges, goals, pain points, demographics and the personal lifestyles choices that these groups share. Your inbound marketing strategy should be catered towards addressing these characteristics.
Some of the most vital tools to attract the right traffic may involve:
Blogging is the foundation of inbound marketing. A blog is essential in attracting new visitors to your business site. To attract potential customers, you may include educational and relevant content on your blog.
Social media platforms help in putting a human face on a brand by ensuring that customers interact with their brand. The content published on social media should be remarkable, valuable and engaging because a lot of potential customers spend much of their time browsing and searching on social media.
Customers begin their purchasing process by making search queries in search engines. As such, you should ensure your website is appearing high on Google's search engine results. Search engine optimisation (SEO) certainly helps greatly with maximising your website's ranking potential on Google and other major search engines.
The process of SEO includes analytically picking keywords, optimising key landing pages, creating content and building links around words your potential customers are searching for.
Convert
After attracting the right traffic to your site, the next step is to convert the traffic into leads by gathering contact information of the visitor. This step may require you to gather their email addresses, business phone number or even personal phone number. There are various techniques for converting traffic to quality leads. To aid in your efforts convert your leads, you may consider implementing or incorporating the following:
These are links or buttons that persuade visitors to take action, for example, "Receive a free quote" or "Get a free consultation today". You should have sufficient and enticing calls-to-action on each and every one of your landing pages to ensure conversion rates are maximised.
Landing pages are where the call-to-action offers are accomplished or fulfilled. A click on a call-to-action button leads to a landing page where the sales team can communicate with the visitor. Visitors usually become leads when they fill out forms on the landing pages.
Forms should be easy to fill out to simplify the conversion process. Avoid the use of excessive form fields as this may be more of a hassle to fill rather than a simple lead capture form.
Close
After attracting and converting visitors to leads, you need to convert the leads to customers. Closing techniques may include some of the following:
This is the process of determining which customers are ready to purchase your services or products. You can represent the sales-readiness of a lead numerically to determine which customers are most likely to make a purchase. Concentrate your efforts into leads which are more likely to convert instead of spreading your attention to the whole lot.
Emails to potential customers help to build trust and entice customers to make purchases. Your emails should be relevant and have focused content on what the customer is looking for. After all, there's no better feeling than to be addressed personally, feeling valued and appreciated in the process.
Email Marketing Automation
This is the creation of email marketing that is tailored to the life-cycle and stage of each lead. For instance, after a customer has quoted a free quote for a particular service of yours, you may want to send him/her emails of related promotions your business is currently having. Not only will they appreciate your special offers but this may dramatically increase overall business sales as well.
Delight
This inbound approach continues to engage, provide relevant and important content, and delight your users (visitors, existing customers and leads) even after customers have made their initial purchases. The following practices can be used to further delight customers.
This type of call-to-action gives users offers that are based on the user's characteristics or life-cycle stage.
By using social media platforms, your business can provide instant customer service as well as build up online reputation amongst loyal customers.
Email Marketing Automation
You should provide existing customers with remarkable content that can help them know of a new product/service or feature which might be of interest to them. Any other relevant, up-to-date news and headlines may also prove to be greatly beneficial as it will help cement your brand's authority within the industry.
Inbound marketing is essential for businesses that want to grow into an authority and attract new leads. It requires commitment and patience for your business to start seeing good results.
The right inbound marketing practices should be used to create relevant content, appeal to the right traffic at the right time and place, and then to convert leads into sales.
Contact us for a free consultation and let's chat about how we can drive more online leads through inbound marketing and SEO.