26/04/2022
Do you know that Australians are heavy internet users? That's why digital marketers utilise the internet as the ultimate marketing platform to connect with target audiences and stay on top of emerging trends effortlessly.
Aside from that, we've also reaped a slew of advantages, such as online shopping, video viewing, news feed browsing, to name a few. With the internet playing such an important role, it's critical for marketers and business owners to understand the internet's values and basic premise.
Therefore, reflecting on the previous year's facts and figures will help us tremendously in establishing a clear goal for the coming year.
Australian Internet Statistics & Facts
We live in an information age where everyone knows a lot about the world around them. The internet significantly helped us understand what happened in the past while allowing us to predict what will happen in the future.
With pertinent information such as facts and figures, you can shape every aspect of your business and use them to your advantage. 
In a Glance: Active Internet Users in Australia
That's because our country has the fastest mobile internet speed among developed countries. As a result, an average active internet user can easily spend nearly seven hours per day online via mobile phones, tablets, and computers.
Take a closer look at the number of internet users in Australia
As a developed country, Australia is at the forefront of faster adoption of new technologies and innovations, including the use of the internet. Statista recorded 4.66 billion active Internet users since October 2020, out of a global population of over 7.83 billion people.
According to Internet World Stats, Oceania and Australia account for approximately 0.6% of the world's 4.66 billion internet users. As of 2020, this 0.6% Oceania and Australia online audience consists of 20.3 million active Australian internet users.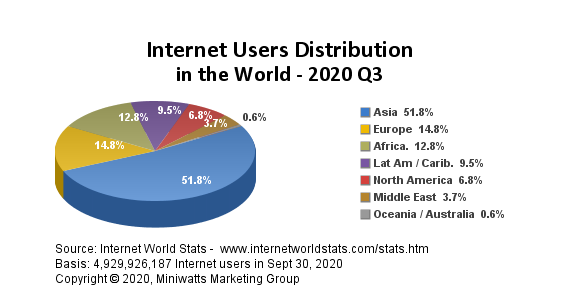 Source: https://www.internetworldstats.com/stats.htm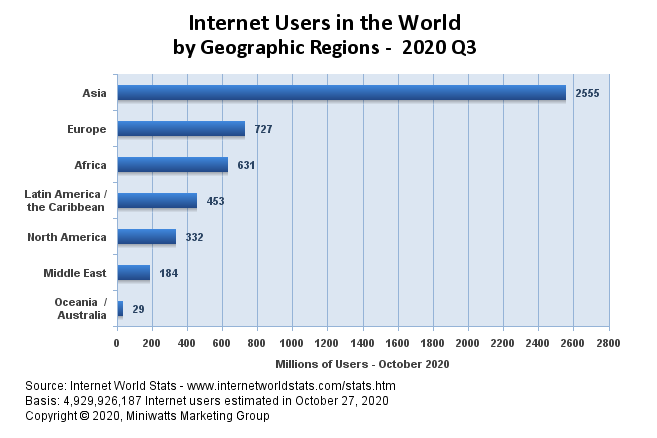 Furthermore, Statista forecasted that the number of online audiences would reach 21.6 million by 2025. Take a closer look at the following summary of Australian Internet users:
Internet users in Oceania and Australia account for approximately 0.6% of the total population.

The number of internet users in Australia increased by 265 thousand (+1.2%) between 2019 and 2020.

Australia's Internet penetration is expected to be around

88% by January 2020.
Latest Statistics of Internet Subscribers in Australia
It is now impossible to imagine a world without the internet. With the widespread use of handheld or portable devices, the internet becomes ubiquitously accessible to the general public at any time and from any location.
In general, people and businesses from various industries rely heavily on the internet's convenience. Furthermore, it has evolved into a key pillar of the Age of Information society and is expected to remain so in the coming years.
Here's a quick rundown of the most recent and final issue of the Australian Bureau of Statistics (ABS) Internet Activity Survey for 2018: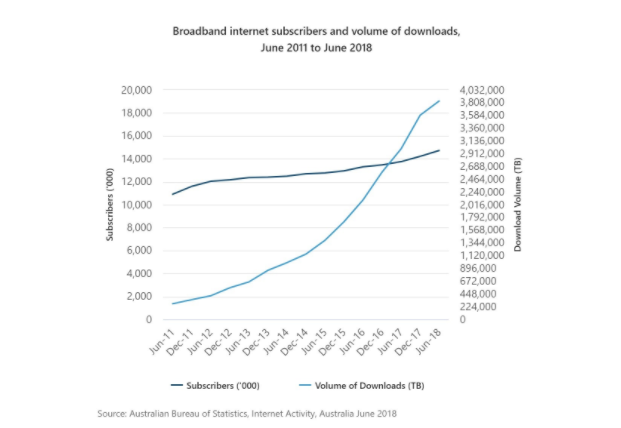 Social Media Internet Users in Australia
Today, the internet and social media platforms have surpassed television as Australia's primary source of news.
Although television is regarded as a reliable source, the number of social media users has dropped to a million since 2018. In the same year, 59% of respondents believed that news stories were made up for political or commercial purposes.
In 2020, in the midst of a pandemic crisis, Australians placed around 63% of their trust in the accessible use of television. Since then, the rise of fake or misleading news has contributed to the use of social media.
According to Statista, social media users in Australia are expected to reach 19.3 million between 2017 and 2025. Furthermore, as of January 2020, the number of social media users had risen to around 18 million.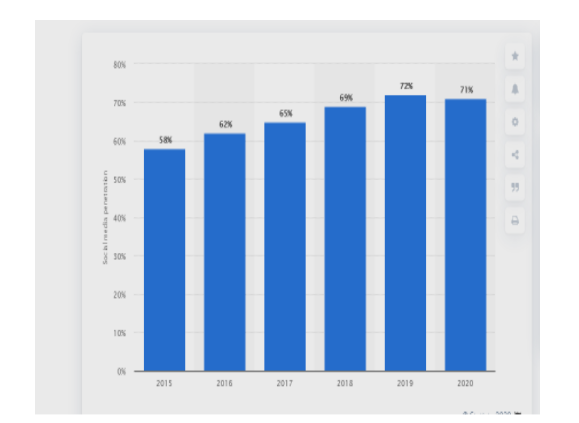 Australia 2015 – 2020 Social Media Users as a percentage of the total population
Source: https://www.statista.com/statistics/680201/australia-social-media-penetration/
Demographics: Internet Usage by Age Group in Australia
As of January 2020, there were over 18 million social media users in Australia, with active internet users aged 35 to 44. According to the most recent statistics (December 2019), the average active internet user in Australia by age group is as follows.
Ages 18 to 24 spends an average of 88 hours and 54 minutes

Ages 25 to 34 spends an average of 122 hours and 25 minutes

Ages 35 to 44 spends an average of 150 hours and 48 minutes

Ages 45 to 54 spends an average of 146 hours and 58 minutes

Ages 55 to 64 spends an average of 117 hours and 1 minute

Ages 65 and overspends 99 hours and 42 minutes
Top 5 Popular Social Media Platforms in 2020
As marketers, understanding how consumers use search engines and engage with content is crucial. According to Social Media News, these are the most popular social media platforms as of November 2020.
Facebook – 16.5 million monthly active Australian visitors

Youtube – 16 million unique monthly Australian visitors

Instagram – 9 million active Australian visitors

WhatsApp – 8 million active visitors

LinkedIn – 6.5 million monthly active visitors
Internet Statistics Forecast for 2021
The global internet user penetration rate is currently around 46.8%. According to Statista, the projected growth of global internet users will reach 53.7% in 2021. Furthermore, according to Cisco, global internet traffic will increase 3.2 times with a compound annual growth rate of 26% in 2021. 
Here's a quick rundown of Internet Statistics for 2021:
The population of Global Internet Users in Percentage
As of 2016, the average global internet user was around 44%.

The global internet user base is expected to reach 58%by 2021.
Traffic on the Internet
From 2016 to 2021, busy hour internet traffic will increase 4.6 times, with a compound annual growth rate of 35%.
Bottomline
The Internet is useful for market research, design, and campaign testing. Relevant data and figures collected are used in marketing strategies across all industries. That's because they assist marketers in identifying trends as well as measuring and evaluating the success of their program. As an SEO agency Sydney, being able to quickly identify and extract internet and search trends is crucial to being able to craft innovative strategies for our clients.