26/04/2022
Mobile phones and devices are a wide range of handheld computers or smartphone devices that lets you perform various tasks including text messaging and audio calling. But mobile devices have been in existence for so long to offer just that. Today, modern mobile phones have become ubiquitous due to their wide range of uses, from communication, entertainment, education and even to conducting business.
On top of that, smartphones are more lightweight and portable than ever, furthering their accessibility and ease of use. Smartphones now also have better interconnection systems, allowing users to access the internet through Wi-Fi and mobile broadband.
This internet and mobile devices combo has been proven to be impactful in helping businesses grow and scale online. As an SEO agency Sydney, we have crafted strategies to take advantage of the mobile phenomenon. Much alike, marketing and digital marketing teams from a wide range of businesses and industries have also made the most of this smartphone feature to develop actionable strategies to exponentially expand business reach.
Latest Mobile Devices Statistics in Australia
As a developed country, Australia is at the forefront of advancing technologies and this includes mobile phones and devices. Ever since mobile phones were introduced in the country, Australians have been employing the device for myriad purposes.
Numbers from Statista show that mobile phone users and penetration levels in Australia are constantly on the rise. From 18.6 million users in 2017, the number of Australian smartphone users in 2021 is expected to increase by 2 million to reach approximately 20.6 million smartphone users.
These statistics showcase that there will be a rapid rise in the number of mobile phone users, which will certainly evolve the digital landscape in Australia. Smartphone usage is significantly on the rise and so will consumers' appetite to engage with products and services found online.
Consequently, the smartphone penetration rate in the country is also bound to increase. Given the nationwide shutdown of the 2G network and the introduction of 5G, the 2017 penetration level of 75.8% will grow to roughly 80% in the coming year.
Apple remains the leading smartphone brand in Australia. Just in the first quarter of 2020, Apple had sold around 843 thousand Apple smartphones, followed by Samsung with 364 thousand units sold.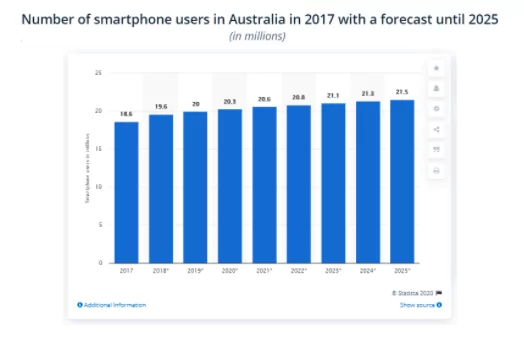 4G, The Internet, and Mobile Devices in Australia
Smart mobile devices are truly one of the greatest technological inventions the world has witnessed. With internet connectivity, users can now reap the full benefits of a mobile device. Smartphone users can conveniently access the internet over Wi-Fi or mobile broadband, so they can go online whenever and wherever.
4G and Australia's Telecom Industry
The fourth generation of broadband cellular network technology, also known as 4G, provides "ultra-broadband" Internet access. This allows users to accomplish various tasks that need an internet connection such as gaming and entertainment services, video conferencing, and mobile web surfing.
According to the 2019 Mobile Network Experience Report in Australia, 4G network availability will continuously expand since the three major operators in the country provide a 4G signal to users over 90% of the time. However, a comparison between rural and urban 4G usage reveals that only Optus and Telstra are available in the remote and very remote areas of Australia.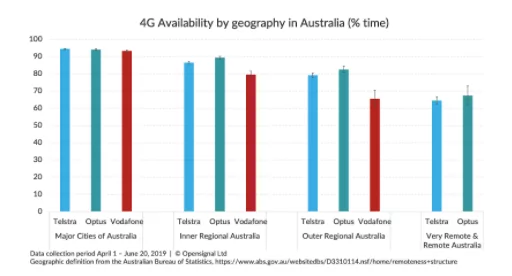 Internet and Mobile Device Users in Australia
Due to the availability of 4G and smartphones in Australia, accessing the internet at any time and place has become much easier. In addition to this, the country is also one of the developed countries with the fastest mobile internet speed.
Thus, it doesn't come out surprising that internet surfers in Australia usually spend an average of 6.8 hours a day browsing online using various devices. However, around 55% of Australian web surfers said they prefer using mobile devices over their laptops or desktops as their means of going online. Supporting this data is the percentage of Australian smartphone users that say they connect to the internet over 5 times a day (53%) and over 15 times a day (20%).
How Australians are Using Their Mobile Phones
Australians use their smart mobile devices to conveniently accomplish myriads of tasks. A great proportion of Australians use smartphones for social media and messaging apps. A Deloitte survey shows that more than 82% of the Australian population use their phones to communicate with their family and friends at least once a week.
Other uses of smartphones include taking photos, digital payments and money transfers, checking news and weather, tracking health and fitness, and gaming. Mobile phones used for entertainment such as watching live TV (45%) and streaming movies and TV series (23%) are also continuously increasing. Furthermore, about 6 in 10 Australian households use their mobile devices instead of three other items like phone books, road directories, cameras, calculators, calendars, and alarm clocks.
Undeniably, mobile phones are an all-in-one device, making them a daily necessity. Around 94% of Australian smartphone users say that they never leave their devices when they go out of their houses. They take their phones more than they do their wallets and house keys.
How Australian Children Are Using Their Mobile Phones
Since 2015, Australia has seen a 5% increase (41% to 46%) in the number of children aged 6 to 13, use a mobile phone.
54% of children have neither owned nor have access to a mobile device
33% of children own the mobile device that they use
14% of children have access to a mobile device but don't actually own it
Most Australian kids are using their mobile phones to either play games, take photos or videos and use phone apps. All usage statistics show that the number of children engaging with or using their smartphones is on the rise.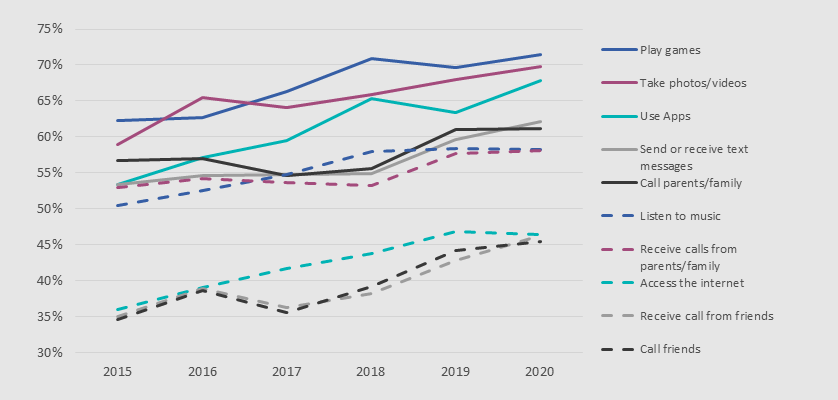 Positive Effects of Mobile Phone Technology
The same Deloitte survey shows two-thirds of Australians consider mobile phones helpful in their daily endeavours, and roughly half (48%) say that it provides freedom. Additionally, more than 70% say that having smartphones gives them peace of mind and security since they can be used in case of an emergency. Here are some positive effects mobile phone technology offers.
Social Connection – Whether through text messages, audio calls, video calls, or chat, smart devices allow for better and easier communication across the globe.
Convenience – With just a few taps on the screen, you can accomplish various tasks that you have to conduct physically in the past. This includes paying bills, hailing taxis, booking appointments, and even working and studying anytime, anywhere.
Physical Health Monitoring – At present, around 18% of the Australian population has adopted the use of wearable mobile devices to monitor their health and track their fitness journey.
Stay Updated – Mobile phones let you stay up to date with current happenings and trends.
Negative Effects of Mobile Phone Technology
Not everyone agrees that mobile phone technology has only brought about positive effects. In fact, 1 in 10 Australians find mobile phones annoying while 4 in 10 find them distracting. Additionally, 32% of smartphone users in Australia expressed that the use of mobile devices increases their stress and anxiety. Below are the downsides of mobile phone technology.
Over-reliance on Mobile Phones – This is especially true in young people. One survey by Vodafone revealed that 45% of their customers say that they cannot live without a mobile phone.
Safety Risks – Security breach is a real threat to Australian smartphone users, and around 87% fear this from happening. Likewise, about 82% are concerned about their phones distracting them while driving.
The Impact of Mobile Devices on eCommerce
The merging of the internet and mobile phones has proven to be a powerful tool in businesses, especially in the area of eCommerce. Smartphones have drastically transformed the way business owners conduct business online.
As the 10th largest eCommerce market by revenue worldwide, Australia tremendously benefits from mobile phone technology. In 2019, with 81% of the population shopping online, the number of online shoppers in the country is already at 20.3 million. This is expected to grow in 2021 wherein the Australian eCommerce market size is forecast to be at $35.2 billion. By that year, the number of online buyers will reach 22 million and the eCommerce market penetration level will be 85.2%.
Shopping and Searching for Services
Smart mobile devices opened up countless opportunities for shoppers to look for the products and services they need, as well as the brand they want. Online mobile shoppers can even filter the search results according to their preference such as the location or service area, product colour and size, and more.
Online Purchasing and Booking
Mobile shopping allows for faster transactions through checkouts, digital payments and online booking. This eliminates the need to visit physical stores and pay over the counter to avail of the goods you want.
Brand Awareness and Customer Engagement
Small and medium businesses (SMB) that employ digital strategies (such as leveraging SEO services, Google Ads or Facebook Advertising) have better chances of gaining leads and being known to their target market than brands with physical outlets only. Given the relatively high smartphone penetration level in Australia, companies can harness the full potential of presenting their brand online and making their website mobile-friendly. Besides, half of SMBs in Australia already employ mobile-friendly websites to drive leads.
Brand Loyalty
By providing a seamless and valuable mobile user experience, companies can build the trust of their customers and potential clients so that they will keep coming back. This would only be possible if they develop their site to be mobile-responsive, reliable, and functional all throughout.
In the coming years, we are expecting better network infrastructures and faster mobile data speed. And with the introduction of 5G, more and more opportunities are in store for businesses. Furthermore, it is forecast that there will be a steady increase in companies adopting digital technologies, so we can only look forward to a future where mobile devices play a major role in business and eCommerce.