04/11/2021
Running a business website (whether you're selling products or services) in 2021 means that you must stay on par with the latest page speed trends and keep up with the increasing need for speed. 
In other words, having a faster site performance isn't an option but a necessity for competitive industries.
Page speed also plays a crucial role in SEO and user conversion in 2021. If you notice your SEO rankings dropping, many reasons may be at play. But more often than not, a slow page speed is the culprit.
Let's take a deep dive into how fast your website should load in 2021.
How Fast Google Recommends a Page Load
John Mueller, Google's Senior Webmaster Trends Analyst, recommends aiming for a page load speed of fewer than three seconds. But more than that, webmasters should focus on optimising speed and scrape off as many milliseconds as possible without ruining the user experience.
That's because every second added to the overall page load speed increases bounce rate significantly. Here are different page load speeds and their impact on bounce rate straight from Google.
A page load speed of 3 seconds impacts bounce rate by 32%

A load speed of 5 to 6 seconds will increase your bounce rate by 90% to 106%.

If a site loads for up to 10 seconds, its bounce rate may rise up to 123%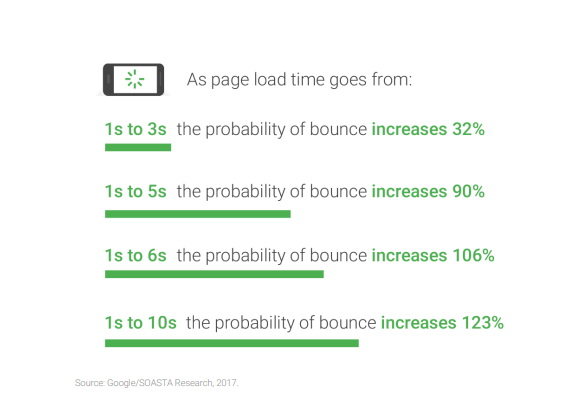 How Fast Should an eCommerce Site Load?
Page speed is also becoming a necessity for websites in all industries and businesses. That's because competitors with better site speed and page load speed would typically attract more traffic than your site, significantly contributing to the competitive gap.
Google launched an industry study that determines the average load speed for different niches and markets. The following are curated statistics that can help you determine how websites in your market typically load and how fast they should be to compete.
Local sites and Classifieds: 7.9 seconds

Finance brands: 8.3 seconds

Industrial businesses: 8.7 seconds

Entertainment and Media sites: 9 seconds

Automotive websites: 9.5 seconds

Retail and eCommerce: 9.8 seconds

Travel and Leisure sites: 10.1 seconds

Technology websites: 11.3 seconds
Keep in mind that Google recommends a page speed of faster than three seconds. Yet, the average rate for the above industries falls above that threshold, particularly retail, technology, and travel websites.
10 Page Speed Statistics You Need To Know
We can only go so far in emphasising the significance of page speed in words. That's why we rounded up some stats and facts from Google and Deloitte to highlight how crucial page speed is for SEO and digital marketing.
Optimising page render time for desktop users increased revenue by about 530% than slower page load time and more than 210% than the average load speed.

Scraping off a tenth of a second in mobile page load speed improves conversions by 10.1% in travel and 8.4% in retail eCommerce sites.

Decreasing page load time by 0.1s will also reduce bounce rates on retail product pages by 5.7%. The same optimisation will yield a 5.4% decrease in bounce rate for travel product listing pages.

Decreasing load time by 0.1s improves customer engagement for retail sites by about 5.2%.

About 78% of mobile users are more likely to buy on mobile-friendly eCommerce sites that offer a hassle-free and quick purchase journey.
Furthermore, it's a no-brainer that page speed has a significant impact on user experience. That means a website that takes longer to load will offer a poor user experience and harms consumer behaviour.
A slow page speed also leads to an increased bounce rate that's detrimental for eCommerce sites. Here are some statistics about what happens when page load speed is sluggish:
More than 45% of users won't buy from an eCommerce page that loads slower than expected.

A second loading delay can have as much as a 20% decrease in overall conversions for mobile devices.

Adding at least two seconds in the overall page load speed increases bounce rates by more than 103%.

A 100ms delay in site speed decreases the user conversion rate by about 7%.

70% of users claim that a website's load speed influences their willingness to purchase from it both online and physically.
Tools to Test Page Loading Speed
The first step to properly optimising your pages for load speed is to benchmark and determine your current position in terms of speed and performance. Several tools are available to test for page loading speed, and we've gathered them all up for you.
We recommend the following tools you can use to implement ways to speed up your site:
Final Thoughts
Site speed has become a more crucial element for digital marketing and search engine optimisation than ever before.
With consecutive algorithm updates and industry changes favouring mobile search and site speed, staying ahead of the competition requires best-in-class knowledge of modern technology and the latest trends.
If you think your website has been impacted by slow page loading speed, speak with our SEO experts today. We will provide you with a complimentary SEO strategy session and a bespoke SEO roadmap to suit your objectives.