30/06/2018
Many Australian business owners are increasingly becoming aware that SEO is important if they need their business to be found on the internet. However, even though many businesses and website owners have become more SEO savvy, that's still not enough in keeping up with the ever-changing SEO trends. This is especially the case if you are competing in highly competitive industries.
As a business owner, you should constantly strive to stay on top of your game by keeping up with the ever-changing and quickly evolving trends in SEO. In other words, SEO strategies that you've adopted in the past may very well be outdated in 2018.
Ultimately, to ensure that your business stays ahead of the game, we've put together the top 5 SEO trends for 2018.
1. Voice Search and Digital Assistants are Becoming More Real than Ever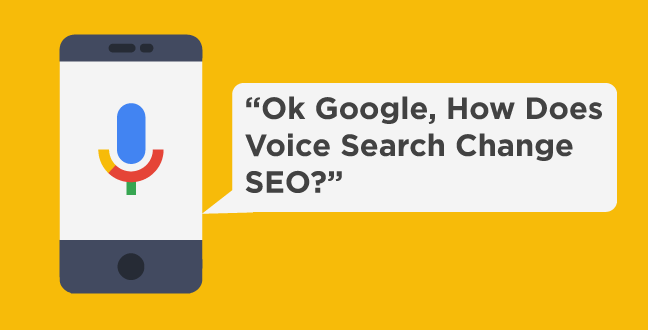 Have you ever been in a situation where you've got a million-dollar question that needs an answer right away? Well, just ask your smartphone. Believe it or not, many in generation Z are already doing so. If you are a business owner and are still sceptical about voice search, it's time to start paying attention.
Voice search is an SEO trend that will continue picking up steam in 2018 just like it did in 2017. Ask anyone who has used voice search and they'll tell you that using it is pretty easy and highly addictive and once you try it, getting back to typing will be very hard. That's why 1 out of 5 (20%) of searches queries on the internet are from voice searches, and that's coming from Google themselves.
This shouldn't be surprising given that voice-activated smart speakers such as Amazon Echo and Google Home are on the rise, thus increasing the adoption of voice-activated activities not just on the internet, but also in our homes. It's also clear that the accuracy of voice assistants such as Google, Cortana, Alexa and Siri are increasingly improving and so people will only have to continue utilising voice search for timely search queries.
Plan of attack
As a business owner targeting to reach more customers on the internet by ranking higher on search engines especially Google, it's important to take advantage of voice searches. You can do this by putting more focus on syntax and long-tail keywords that are commonly used in the everyday language.
The content of your website should therefore be not only well-structured, but also be properly broken down in short sections that address key questions searchers are trying to find the answer to.
2. Mobile Optimisation

There has been a lot of news about Google finally rolling out its mobile-first index in 2018. In fact, on January 18th Google has come out to officially announce that starting from July 2018, page speed will be a ranking factor for mobile search. This is a move that has been significantly influenced by the tremendous increase of smartphones on the internet.
More and more web browsing is done on mobile phones rather than on traditional desktop computers or laptops. According to a study by Hitwise, more than 60% of total web searches are done through mobile phones.
With the mobile page speed kicking into full drive later this year, having a well optimised mobile-friendly website and interface is no longer an option in 2018, but a very crucial requirement.
Plan of attack
The importance of having a mobile-friendly website is nothing new and you've probably heard about it before. However, with the mobile page speed as a ranking factor coming out, it's set to more than likely have an impact in your respective industry.
As a business owner, you should make sure that your website is mobile-friendly and loading lightning quick. Test Your website's loading speed with Google's mobile speed tester and find out how your website stacks up.
3. Optimisation for Intent (More Focus on the Searchers' Intentions)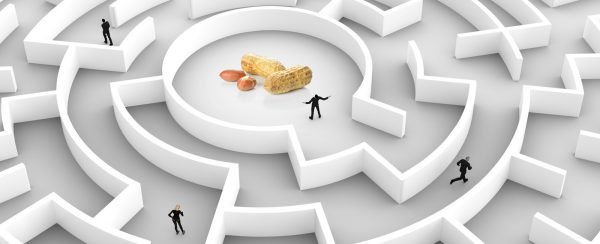 Google has been investing heavily in ensuring that the needs of users are properly catered for in their engine. That's why they've been spending billions of dollars on creating RankBrain, which is an Artificial Intelligence program that's basically designed to better learn about users' search intentions.
In other words, RankBrain is set to be one of the top SEO trends in 2018 as it will be a crucial algorithm used in determining a searcher's behaviours and continue to provide better results based on what they're looking for.
A typical example would be; you search for "best evening dresses." In most cases, it's impossible that you want the definition of an evening dress, but rather places where you can purchase the dress. This is where RankBrain is set to come in handy. It will try to figure out what you want based on what you've been searching and give you the best possible answers.
Plan of attack
As a business owner, it's crucial to structure your website based on searchers' intent so as to fall on the good side of RankBrain. Your main focus should be on trying to understand what searchers want before trying to create a website that can rank high.
Remember; structure keywords with the intent of helping customers find more valuable information. You can take a hint from auto-suggest results at the bottom end of every SERP and tailor your website to meet the results that your targeted customers likely want when they Google something. It's all about being relevant.
4. Featured Snippets and Quick Answers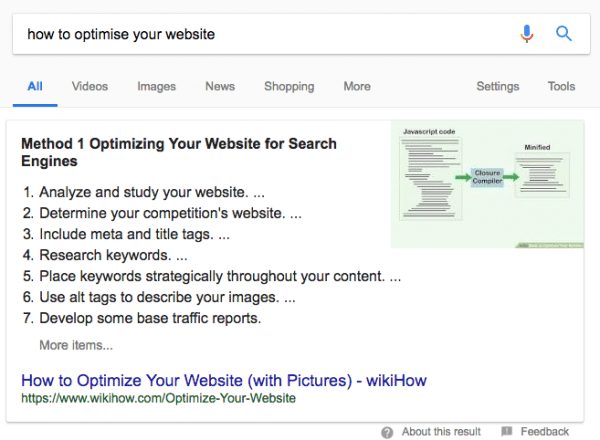 Google began rolling out its Quick Answer feature in 2016 and it's going full force as a top SEO trend in 2018. These are basically small snippets of information that are highlighted at the top of SERPs. They've become very crucial in the last few years with almost 30% of all searches in Google having quick answers or snippets.
As an important SEO, snippets and quick answers give users the option of not having to open the link to see the entire content of the page. Instead, a summary answer from the web page is extracted by Google and is featured in a block of text
Plan of attack
Featured snippets and quick answers are already helping websites to rank higher on SERPs. As a business owner, you should prioritise using snippets and quick answers to not only drive traffic to your site, but also to rank higher. All you have to do is structure your sites' content in a manner that they can accurately answer quick questions. Remember to pay more attention to structuring and formatting your content in a manner that Google can find it easier to pull out and put relevant information in form of snippets.
5. Survival of the Fastest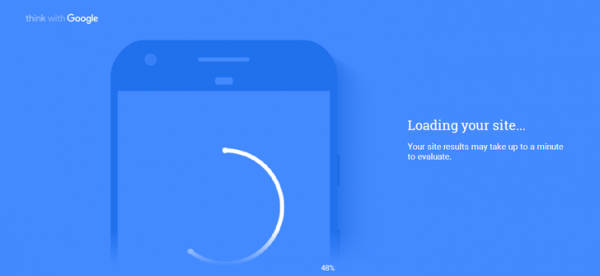 Speed is one of the biggest things on the internet. There's no doubt that Google takes into significant consideration page loading time when ranking pages. This means that pages that load faster are more likely to be ranked higher than those that take centuries to load.
Using Accelerated Mobile Pages (AMP), Google is helping sites to have their pages loading 4 times faster than regular pages on mobile phone browsers. This will also be crucial in ensuring that these pages use 10 times fewer data in loading.
Plan of attack
You should consider using simple protocols on your website. Google has made it very clear that protocols such as HTTPS are a big deal to them as it makes it easier to determine whether your site is a safe connection or not. Again, using HTTPS will ensure that your visitor's sensitive information is not placed in jeopardy. That's why your website should have HTTPS implemented and fully functional at all times.
Remember; Google's studies indicate that sites that are not user-friendly and take more than 3 seconds to load lose almost 40% of visitors. Having a not-so-friendly website that takes an extra second to load may hugely affect your conversion rate, so make sure that your website in as mobile-friendly as possible.
In Conclusion
It can never be doubted that SEO is a truly complex science. It has more than 200 aspects in Google's algorithms that are structured to help your site rank higher. However, SEO is futuristic and an ever-changing landscape, and so you don't have to know much about the 200 factors, but only about the trending rules of the game.
In short, it's advisable that you structure your website in a manner that it is mobile-friendly, safe and can enable voice search, snippet answers while still remaining relevant by answering relevant searches queries.